The Big Little Holiday Party
On Thursday, December 14, 2017 bring your small business to join us in celebrating the holidays. There will be a DJ, dancing, a delicious seasonal buffet, a Pomegranate Cranberry Sparkletini Toast, and a cash bar. Options to upgrade to open bar or drink tickets are also available. The cost is only $75 for a table and $37 per person for dinner. For more information and upgrades, view our Big Little Holiday Party PDF. Book your reservation now by emailing chaman@splitrockresort.com or by filling out the inquiry form below. Party of 20 or more? Book your own private banquet room for the holiday celebration.
Poconos Retreats
Escape the everyday chaos with a work retreat at Split Rock Resort, located in the beautiful Poconos Mountains. Our location, extensive amenities, and affordable cost offer the perfect flexibility to meet your group's needs. We offer a variety of group packages to suit every gathering and age group.
Split Rock Group Packages are available for both midweek and weekends. Customized options include:
Overnight Accommodations, Breakfast, Lunch & Dinner Options, Indoor & Outdoor Recreational Activities, H2Oooohh! Indoor Waterpark Passes, Sporting Courts, Bowling & Arcade Passes, Group Meeting Spaces, Banquets and Receptions
Call (888) 802-2348 to speak with our sales department for more information.
Teambuilding
Leadership, trust, and teamwork can all be built through team building exercises. Your group's teambuilding experience will start with an ice breaker and your choice of one or more of the following activities led by a member of our Social Squad: Olympic Games, Scavenger Hunt, Family Feud, and Obstacle Course.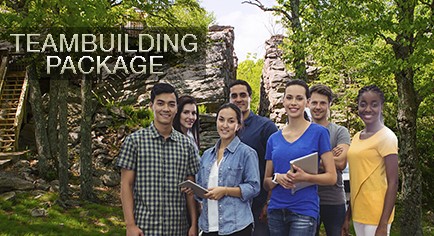 Call (888) 802-2348 to speak with our sales department for more information on our teambuilding package.
Motor Coach
Split Rock Resort is a motor coach friendly destination, and we welcome you to make the trip to the beautiful Pocono Mountains! We strive to give your motor coach group a memorable experience, whether you come on a day trip or for a whole weekend.
Split Rock offers motor coach packages that include:
Complimentary Bus Parking
Overnight Accommodations
Welcome Reception
Breakfast, Lunch & Dinner Options
Daily Activity & Recreation Program
Free Time to Explore Onsite Amenities
View our sample Day Trip Itinerary or call (888) 802-2348 to speak with our sales department for more information on day and bus trips.
Inquiry Form
Planning your next event? Choose Split Rock Resort! Please complete the Request for Proposal below, and one of our sales specialists will be in touch with you.
Signup for amazing offers