Indulge your cravings at the delicious restaurants exclusive to Split Rock Resort. From pizza at the H20 Island Oasis to the delicious breakfast spread at Split Rock Grill and traditional American favorites and brews at Thirsty Moose Saloon, we've got something to please every taste. Dining hours of operation are subject to change without notice. Don't forget to visit our Food Court for coffee, ice cream, pizza, sandwiches and more! Check out our Live Entertainment Schedule for April at the Rock Bar!
UPCOMING SPECIALS AT SPLIT ROCK GRILL!
COME CELEBRATE MOTHER'S DAY AT SPLIT ROCK GRILL! Sunday, May 13th - Bring Mom and the family to enjoy our scrumptious Breakfast Buffet from 7:30AM - 11:30AM with made to order omelets and a waffle station - $16pp, inclusive or come for Dinner from 4:00PM-9:00PM Order from our dinner menu or enjoy some of our Chef's Specials, Sweet Treats from our Chef for Mom's! Bring multiple generations of mom to the table and receive 10% discount on your bill. *not including alcohol.
Split Rock Grill
Dine in for breakfast and dinner at this family friendly favorite.
Weekly Buffet Nights
Monday Night Football Feast
(Build your own hot dogs & burgers)
Taco Tuesday
Wine Wednesday
(Build your own pasta dish & wine specials)
Backyard BBQ Thursday
Surf n' Turf Sunday
Lake View Tavern
A lovely dining area in the rustic lodge with a beautiful view overlooking Lake Harmony. The perfect place to relax and enjoy a cold drink, good food, and a great view.
We will be open on Friday and Saturday, June 8th & 9th - 5:00PM-9:00PM
Come Enjoy Dinner on the Deck!
Thirsty Moose Saloon
Enjoy stunning views of Lake Harmony from the Thirsty Moose while sipping a refreshing brew or cocktail. Lake Harmony's Favorite Watering Hole offers live entertainment, drink specials, delicious pub food.




Rock Bar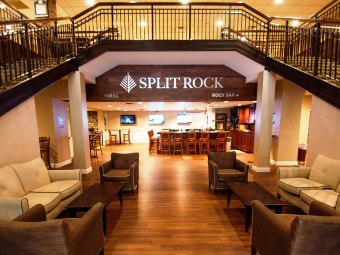 Seasonal drink features, live entertainment, and the NFL package all in the heart of the Town Center where the action surrounds you. Click here to view our May Live Entertainment Schedule!
Food Court
When you have a busy day ahead, our food court is a convenient grab and go option with ready to go coffees, sandwiches, salads, and pizza.
H2O Island Oasis
Famished after a few too many spins on The Viper slide? We've got your hunger covered! Enjoy a savory bite, from pizza and burgers to funnel cake fries. Our cabana themed island bar offers delicious frozen margaritas, piña coladas, and more tasty beverages. Island Oasis is open during water park hours.
Sand Bar
COME HAVE FUN AT THE SANDBAR, OPENING MEMORIAL WEEKEND!!
Enjoy a delicious frozen drink at our Sand Bar while overlooking the beautiful Lake Harmony.
ENTERTAINMENT FOR MEMORIAL WEEKEND!
Friday & Saturday - 6:00PM-10:00PM - DJ Dance Party
Sunday - DJ Dance Party 1:00PM-5:30PM and Live Band "Group Du Jour" 6:00PM-10:00PM
Monday - DJ Dance Party - 1:00PM-5:00PM
Watch Chef Susan Nordt on Chef's Kitchen TV or try Grilled Salmon with Pumpkin Seed Winter Pesto and a Pomegranate Glaze at our Split Rock Grill.
DONATE TODAY & MAKE A DIFFERENCE
100% of your donation benefits Save The Children. Thank you for your support.